What is the

Institute for Future of Living

focusing on &
Where can You Support and be Supported?
Learn more by looking at our 1 Minute Video (below), and
by reading our 4 Minutes Script and the other contents of our Website.

Institute for Future of Living
Urban societies and communities around the globe face similar societal challenges in addressing local, regional and global issues, at local urban society level. Together we can move things to a new scale, and share knowledge, experience and good practices with others, whether a neigbouring urban society or one on the other side of the world. Mutual understanding, learning and the impact you want to achieve as an urban society are at the heart of the collaborative modus operandi of our Institute and our network.

What to expect?
PARTNERSHIPS
Effective collaboration allows urban societies to discuss, experiment, learn, deploy, scale up and improve at higher speed, and to minimize costs and failure rates. And most importantly, shared solutions will improve the lives, and help make urban societies Future-proof. The Institute For Future of Living places the symbiosis of human, societal, ecological and economic values at its heart.
IMPLEMENTATION
The Institute For Future of Living does not only initiate discussions about societal challenges and how to address those. It also helps navigate urban society stakeholders in this complex, converging and more and more hyperconnected domain, with the aim to enable and facilitate the respective stakeholders to implement, sustain and continuously optimize.

Walk the Talk
The societal challenges, and related Sustainable Development Goals are a challenging problem set. There is no one solution. There is no one group with the answer. There is no one technical fixture. This is all about hard work, boots on the ground, roll up our sleeves, start walking and work together as teams. This is not about talk. This is all about walking and achieving outcomes.
The Future of Living is a Team Sport.
The Institute for Future of Living is a societal, citizens' initiative. It addresses and acts locally and globally on societal challenges that others may be willing to talk about but may not be able or daring to activate and start the walk. Each challenges requires diverse teams and capabilities.
The Institute for Future of Living is all about connecting, collaborating, listening, learning, teaming up, and walking the talk. Human-centric, nonpartisan and technology neutral.
The heads may be in the clouds sometimes, but the boots will need to be on the ground at all times.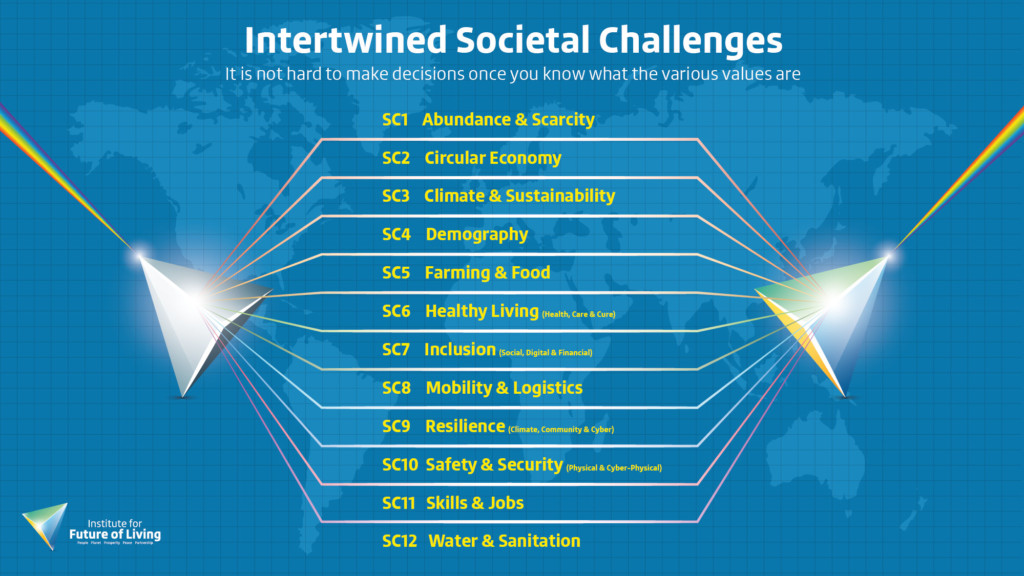 Team Up
It is not about the big idea, the tech solution or the grand plan. Sometimes all you need to improve the quality of life for you and others is some humanity and have individuals and organisations to team up. We invite you to team up and make the difference. It's Your Future of Living.